Transformational Gift in Memory of Rocky Napier, D.M.D, Creates Legacy of Care for Patients with Special Needs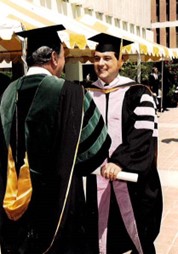 By Stephanie Oberempt and Dana Taylor
Rocky Napier, D.M.DA lifelong advocate for children and patients with special needs, Aiken pediatric dentist Rocky Napier, D.M.D. Class of 1987, believed in helping those who are most vulnerable. He dedicated himself to serving countless people throughout his life. His tireless volunteerism and charity are too many to list here and are only equaled by his professional awards and honors.
Among them: the Distinguished Alumnus Award USC-Aiken, a Presidential Citation from the South Carolina Dental Association (SCDA) in 2007 for his work with National Children's Dental Health Month, the SCDA Meritorious Achievement Award, and the Distinguished Alumnus and Award of Honor from the MUSC Alumni Association.
Napier's career was characterized by his deep compassion for others, his excellent care for children – especially those with special needs – and his dedication to philanthropy. Even as Napier enjoyed a highly respected reputation across the United States, he was affectionately known as "Dr. Rocky," finding his greatest sense of purpose in serving and advocating for at-risk children and adolescents with special needs.
Napier was born in 1956 in Aiken, South Carolina and grew up in nearby Graniteville, attending public school in that community. As a college student, he worked tirelessly to pay his own way, obtaining his undergraduate education from University of South Carolina-Aiken and from the main USC campus, earning a degree in electrical engineering in 1978. After graduation, Napier worked for several years as an engineer with Babcock & Wilcox in Augusta, Georgia before deciding to pursue a career in dentistry.
Napier's mother, Jewel Napier, recalls the day Rocky shared a life-changing decision with her: He had turned down an offer from Babcock & Wilcox to work in Japan and instead, planned to go to dental school. Jewel, who was always so proud of her son's determination, hard work and accomplishments, readily assured him that she would be with him all the way!
He graduated from the James B. Edwards College of Dental Medicine at MUSC in 1987, followed by an internship and residency in pediatric dentistry at the University of Alabama at Birmingham School of Dentistry, where he served as chief resident. After completing his residency, Napier returned home to Aiken, where he spent the next 30 years practicing dentistry in same building in his beloved community.
For those who knew him, "Dr. Rocky's" name immediately recalls memories of his contagious joy, his unwavering compassion and his fierce dedication to children who needed special care. His pediatric patients loved him, and their families considered Napier their hero. When he opened his office, he created a play house in the lobby and would often greet the children there, helping them feel loved and happy, as well as safe and comfortable. He understood the heart of a child and genuinely responded to their spontaneity. Often remembering how he felt as a child, he extended his compassion and care, especially for children with special needs or circumstances.
Napier also expressed his deep commitment to pediatric dentistry through his leadership and advocacy, which led him to serve the Central District of the SCDA with distinction. He also served with the AGD, SC Society of Pediatric Dentists, Southeastern Society of Pediatric Dentists, American Academy of Pediatric Dentists, American College of Dentists, International College of Dentists, and the Pierre Fauchard Academy. Napier not only gave his time in service to these organizations, but he also demonstrated his commitment through generous philanthropy. He supported children's activities at EdVenture in Columbia, South Carolina and DHEC's South Carolina Oral Health Division. At MUSC, Napier generously supported initiatives at the Macaulay Museum of Dental History, provided funding toward scholarships and an endowed chair within the College of Dental Medicine, and gave support for the MUSC Pediatric Dental Clinic and the Pamela Kaminsky Clinic for Adolescents and Adults with Special Health Care Needs.
Napier will be remembered for his passionate advocacy for the dental profession and for his tireless fight to prevent dental disease in children. Sadly, after a long and private battle against cancer, Napier passed away in March 2021. The Aiken community, the MUSC family and the people of South Carolina lost a man who stood in the gap to serve and advocate for the wellbeing of the most defenseless in our society, children with special needs.
Napier once wrote, "Regardless of what you believe or how you believe it, we were put here as part of something far much bigger and more important than ourselves. We were put here to help each other relentlessly, with compassion and without discrimination else we would all eventually fail. Our emphasis is to be on the most vulnerable. Within 15 minutes of every dentist's office in this state, there are at least 100 very young, unique, and needy children. None of them had the opportunity to pick their parents or their condition at birth. You will be surprised how many go a day without a bath, are put to bed without a meal, and/or have no idea that somebody really loves them. Still, they remain our profession's, our policymaker's and our fellow man's most precious resource for the future. Please get to know them and help them. Teach them all you can and always tell them you love them."
Out of great love and devotion, Napier's mother Jewel, wanted to ensure that her son's legacy would endure for generations to come. She knew Rocky was always there to make sure the voice of dentists and children were heard. After all, many fondly remember Rocky's inspirational "signature sign-off" when bidding farewell, especially to his colleagues: "Until next time, Docere, Doctor, Teach! Thank you for always giving back!! Talk with you later – Dr. Rocky."
To celebrate Napier's philanthropic life and many accomplishments, Jewel Napier, has generously committed a gift of $1 million to the MUSC James B. Edwards College of Dental Medicine through her estate. "I knew by the things that he did, that this was his heart," Jewel said. "I wanted to see his dream come true."
When fully funded, the Dr. Rocky Napier Endowment for Children and Patients with Special Needs will provide annual support for the treatment of children and patients with special needs at the MUSC James B. Edwards College of Dental Medicine. It will also create the Dr. Rocky Napier Lectureship. This transformative philanthropic gift will serve as a lasting tribute to a highly respected alumnus and beloved son.. 
"The children just loved him," Jewel Napier said of her son's motivation to create sustained support for pediatric and special needs patients. "He always knew how to talk to kids. He knew how the kids felt and wanted to do something to help them, especially the children with special needs. I think his love for kids came from the fact that he had to work for his successes. He really wanted to encourage other people." 
To learn more about the transformative power of gifts through your estate, please contact our Director of Planned Giving, Dana Taylor at 843-792-3592 or talydana@musc.edu.
To support the James B. Edwards College of Dental Medicine through other avenues, please contact Development Director Stephanie Oberempt at 843-345-8579 or oberempt@musc.edu.