Couple provides scholarships through estate planning
By Allison Crowell
(The following article was originally published in 2015. We are grateful that our friendship with the Robbins remains as strong as ever!)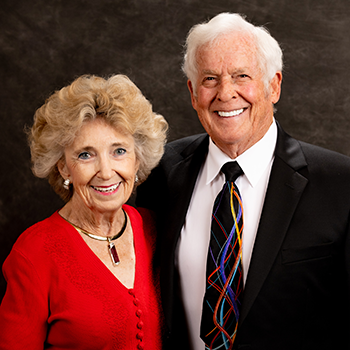 When Delaine Robbins thinks about college debt, the Rock Hill resident remembers that old Ford Model A that he and his twin brother shared when they were students at Erskine University. 
They drove the car to work mopping floors at a barber shop and at a college canteen that sold sandwiches and cigarettes. But their income wasn't enough to cover tuition, and they had to pay up before they could sit for exams. So the brothers sold their old Ford to the barber in order to graduate. 
For Mr. Robbins, his and his wife's recent commitment to provide full scholarships to the MUSC College of Medicine is a nod to that old Model A. 
But for Julia, his wife and the former math coordinator for Rock Hill School District, it all comes down to a simple equation: "Think about all the people that doctors help every day. They will see about 30 people per day and work 20 days per month, so that's 600 people that they help every month. It gets to be exponential."
The couple recently made a planned gift that establishes the Delaine and Julia Robbins Endowed Scholarship Fund from their estate after their deaths. They have no previous ties to the medical university but wanted their gift to benefit South Carolinians and, specifically, students who hope to become family doctors but who might choose specialty medicine in order to pay off debt faster. 
"Most people leave stuff to their children, and we don't have children -- so that's out," Julia said. "We wanted to do something that makes a difference. A key to anybody's happiness is health. And the key to health is doctors. We could use more physicians."
The couple met when Delaine was 15 and Julia was 13, and Delaine's family business performed some extermination work on Julia's home in Rock Hill. Julia and her mother went into town to pay bills, and she saw both Delaine and his brother, Eugene, at Modern Exterminating Company.
That night, she wrote in her diary: Today I met two cute twins and boy, do they have the best manners! One's name is Eugene, and I forget the other's name…
When her neighbors called Modern Exterminating for some termite work the following week, Julia put on her favorite red-and-white shirt and white short-shorts and leaned on an oak tree outside all day while the boys worked. Delaine remembers staring out the vent at her.
He asked her to go on a double date to the movies with Eugene and another girl. Delaine had met girls at the YMCA, and they always asked permission from their mothers before agreeing. 
"She said, 'Yeah, I'll go – without asking her mama!" Delaine remembered. "I thought, this is a girl of the world." They dated for seven more years before marrying, and only after a decade of marriage did Julia tell him that their date to the movies was her first date ever. 
Delaine and his brother, now 72, still run the family exterminating business, which serves fourth-generation customers. Julia, 70, retired from the school district nearly 10 years ago so that she and her husband could travel together beyond the constraints of summer and winter breaks from class.
Julia called MUSC this past December to inquire about scholarship donations. College of Medicine Interim Dean Dr. Deborah Deas said that their gift comes at a critical time, as the College of Medicine continues its unprecedented Opening Doors campaign for medical scholarship funding. 
"A willingness to work hard, combined with determination and compassion, are ideals upon which Mr. and Mrs. Robbins have built their lives," Dr. Deas said. "This makes their choice to endow a medical scholarship a fitting one. Diligence and compassion are among the foundational virtues that all medical students must possess and continue to cultivate." 
Julia Robbins put it simply: "We just thought this would be a good thing to do. It feels good."